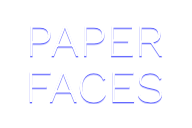 Paper Faces
PAPER FACES Release Notes
---
Hi there. I have a new game. PAPER FACES is a top-down knife throwing arcade(?) game. Unlike my normal work, it is pretty much totally plotless.

PAPER FACES came into existence because I decided on a whim that I should do another game jam. At some point in the distant past, someone must've told me that there was a big game jam running from July 10th to July 12th, so I mentally decided that that was when I would make a new game. (It was GMTKJam, I later found out).
Except that GMTKJam was a full-blown jam with a theme and a strict time limit -- and I didn't really think that my idea really fit the theme all that well -- so I went and just made it on my own.
I created PAPER FACES sort of as a study in game development - it was my first time trying to create something finished with Godot Engine, and I deliberately focused on trying to create a game loop and some interesting mechanics rather than narrative as I normally do. In the spirit of making it sort of like a game jam game, I also limited active development to the weekend. Any work done after the fact was to fix bugs, of which there were embarrassingly many. (There's a reason why I took a few days to actually release this.)
It was also a look into where my game development priorities lie.
The game is not incredibly polished. There's no sound at all, UI was pretty much an afterthought, and there's so much I could've done to tighten up the gameplay. I was also working entirely by myself, so there was very little time to dedicate to polish. But, there were still things that I took (perhaps too much) time to get right. The way the knife sticks to walls. The designs of all the characters and enemies. The lighting. Had I not forbidden myself from creating a story, I'm sure I would've spent a lot of time perfecting that, too.

At any rate, I'm much more used to working on more narrative-focused games, and I think I showed that to myself, if anything. But the game is still complete, in a fashion, and I found it fun to get through, as did a few people I showed it to. The whole thing takes approximately 4 minutes to play through. I hope you'll enjoy it.